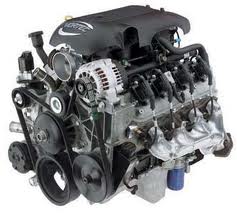 The Vortec V8 from Chevy originally started as an element of design in 1988. A better way to improve the air to gas ratio helped create a vortex inside of the combustion chamber. This technology was quickly implemented into a new line of Chevrolet engines and the Vortec was created in V6 and V8 models. All pushrod engines that were created between 1988 and 2007 have received the Vortec name. The Chevy Silvarado is one of the most successful trucks along with the GMC Sierra. Our Chevrolet Silvarado HD Vortec 6000 V8 for sale is an engine that you can depend on without the high price tag of a new one.
The 6.0L displacement in the Vortec V8 6000 provides the performance and power that truck lovers expect in a full size pickup. This Chevy Generation III engine is a 325/360 ratio that delivers on promises made to drivers that have this engine underneath their hood. The high compression output has yet to be matched by rival automakers and Chevrolet continues its dominance in the light duty pickup truck market. The year 2003 saw the first appearance of the 6000 V8 as the predecessor to the Chevy 1500 Crew Cab. We have the Chevy Silvarado HD Vortec 6000 V8 in stock and ready for shipment to your door.
Chevy V8 Fuel Mileage Without Sacrificing Power
Whether you are doing an engine swap or a complete rebuild, you will find that dropping one of our engines into your Silvarado does not come with sacrifices on quality or power. We help you to save money without cutting corners on what you expect out of Vortec V8 engines. What you get is excellent fuel economy, no fluid leaks or pushrod problems that are common when buying rebuilt motors online. We take selling engines seriously and have a goal to provide you with a high quality engine at a used engine price.
We want you to feel comfortable buying from our engine inventory and we look forward to establishing a long-term relationship with you as your online remanufactured engine provider. We are so confident in the quality of our engines that we provide a 3-year warranty against parts failure. We give you the lowest price you can find online and we take care of you after you make your purchase. We earn your business without sales tricks or misleading information.
Order a Chevrolet Silvarado HD Vortec 6000 V8 Today
Call 1-866-320-1065 now and speak with one of our helpful engine specialists. Don't feel embarrassed about asking questions about our Chevy engines for sale. You can also use our price quote system to provide us with the basic information we need to send your quote by email fast.