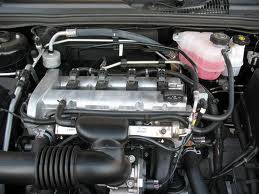 Chevy Cavalier owners know something that Ford and Dodge owners do not. That is what you get for your money when you drive one. Few cars in the the last 40 years have stood the test of time better than this Chevrolet masterpiece. The 2.2-liter engine is the most used engine in this model although other engines have been tested. The V6 power has proved to be a success for Chevy as 3 generations have now been produced of this word famous automobile. We have used Chevy engines for sale at a deeply discounted price. We sell Chevy Cavalier engines for sale here and do not specialize in rebuilds or new engines.
At GotEngines.com, we are your used Chevrolet engines for sale experts. This includes the Cavalier and many other Chevy cars and trucks. One thing we do very well is select engines that are in the best shape to sell to our customers. We have been selling engines for a long time and have learned from our own trial and error when buying engines. We've even been burned a few times in the past, but we learned from those mistakes. The condition of our used Chevrolet engines is something that you don't see everyday. These are definitely something you won't find on eBay.
We Give You a Warranty with Your Chevy Cavalier Engine
Protection is essential for any engine that is sold. That's why we do our best to help protect you for the little things that can quickly turn into a larger issue. Things like OEM part failures are common especially with used engines. Just because we buy engines used does not mean that the dealer or distributor where we purchased these engines changed out any parts. We are in control of what is purchased and inspect every part for damage, corrosion or other factors that could turn a good engine bad. We have a no-hassle warranty process and protect your motor for up to 3 years. If you happen to have a problem, contact us quickly and we'll make sure we take care of you.
Can it get any better than free shipping? We don't think so. We have slashed our shipping prices down to zero to make it more affordable for you to order our Chevy Cavalier engines for sale. It costs us hundreds of dollars to ship an engine, but we don't hide this cost back into our prices. We have low prices to help you save your hard earned money. We pay the freight so you can worry about other things in your life. Our shipments arrive fast to locations inside of the U.S. and Canada. It's easy to place orders and receive them quickly here at GotEngines.com.
Low Chevy Cavalier Engines for Sale Prices
You don't have to pay to call us. Call 1-866-320-1065 toll free. You speak to a Chevrolet engines expert not a secretary. We are very helpful to new and experienced engine buyers and strive to make contact with our company the best experience you can have. Get our price right in your email when you use our Chevy quote form. It's fast and really, really simple to use. Don't miss such a low price for a quality used engine.