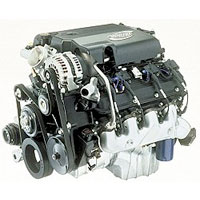 Product Name: Vortec 8100 8.1L Engine
Product Description: The Vortec 8100 (RPO L18) is a V8 truck engine. It is one of the redesigned Chevrolet Big-Block engines and was introduced with the 2001 full-size pickup trucks. It retains the same bore centers as the old 7.4 L big-blocks, but stroke was lengthened to exactly 8.1L (496CID). It is an all-iron engine (block and heads) with two valves per cylinder.
Brand: Got Engines Used Vortec 8100 Engines
Price: Call For Price Or Use Form Above
Condition: Used, Excellent Quality
Power output ranges from 225 hp to 340 hp and torque from 350 lb·ft to 455 lb·ft. Vortec 8100s are built in Tonawanda, New York. The Vortec 8100 is the engine used in the largest U-haul, their 26-foot truck. It has also been used in funeral cars. GM stopped installing big block V-8's in the Silverado H.D. trucks, when the GMT-800 series was discontinued in 2007. 8100 marine engines range from 300 hp to 500 hp and come with a stand-alone ECM.
Realistically speaking this is a mid sized truck motor. It is also a popular marine engine. Which is why the marine engines use a stand alone ECM, as to protect it from the sea air. Electronic components don't like sea air.
The Chevy Big Block engine is legendary amongst drag racers and street racers as well. No other engine lends itself to modifications better than these, although with fuel so expensive, less people are building the street racers with them.
As mentioned earlier this is a very popular marine engine. Make sure you mention that you are interested in a marine engine when you call one of our specialists. They can tell you what motors directly interchange with no problems. Most of the direct exchange engines are the same as the truck engines. The main differences are the water pumps and the exhaust manifold, which would have to be reuse anyway.
If you are looking for a used 8.1 Vortec for sale on Craiglist, you might want to consider checking out our network first. Because these are mainly commercial engines, we have them in stock and crated. We can ship the Vortec 8100 Chevy engines immediately so you can get your truck back on the road. And don't forget that all of our engines for sale are pretested to insure we exceed your expectations and limit down time.