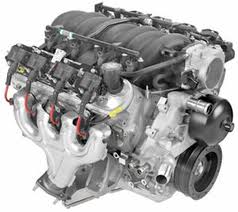 The LS1 motor was produced by General Motors in the mid-1990s for direct installation into performance vehicles. This motor stays true to the original small block size pioneered by GM. The Generation III motors produced during this time were meant for high horsepower applications. Both the truck series and Corvette series vehicles used the LS1. The 345 hp base provided with this motor is one reason why it has become so popular as a replacement. Customers expect value when buying a used LS1 engine and that's exactly what http://www.gotengines.com provides.
The Corvette and Camaro have become two legends in the GM family. More models have been produced from these two brands than any other type in GM history. The C5 Corvette series was the first instance of the LS engine. This 1997 introduction to the power and performance of the LS high red line limit motor. The 5,600 RPM rating provided with this motor ensures that all installations retain factory specs. Buying a preowned motor should never be complicated for customers. Knowing where engines come from and the condition before installation is what most buyers demand. Purchasing motors from Got Engines gives the value that has been lost with many dealers online.
Used LS1 Engine with Extended Warranty
Protecting any investment is a smart thing. Buyers often do not have a choice when it comes to the term of the warranty coverage. It is usually left up to the retailer to decide how long to extend damage protection. Buying from auction website sellers can be an eye-opener when it comes to quality and condition. The General Motors V8 editions that are sold by this company provide all buyers the OEM quality expected. All motors receive the same protective warranty that is written to benefit all customers. This coverage does not cost any money and is very helpful to buyers.
Free shipping is a phrase not typically attached to engine retailers. Many companies disguise the cost of shipping in the form of extended discounts. Preowned engines sellers are not known for offering pricing under MSRP. The difference with this company for all used engines it is clear upon order processing. The low pricing and free shipping incentives that are provided through this company directly affect all buyers. The work put into selecting low mileage blocks and the evaluation procedures help assure every buyer in our GM engine quality. There is only one price provided with each motor stocked. Pricing might not be displayed here although it does not mean it is high. Custom quotes are provided for all customers prior to order processing.
Used LS1 Engine Price Quotes Online
Price delivery is always expedited through this company. People lose interest fast when pricing does not get send out quickly. Our company provides one click price quotations here online. Buyers performing price research before purchases made can benefit from this system. In addition to online price delivery, toll-free number support is provided to all customers. This number is available during regular business hours to supply pricing, VIN number matching and answers to GM motor questions.