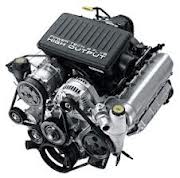 Dodge Ram truck was engineered by Chrysler in 1981. This pickup comes with powerful engine types. The exterior body of the Ram truck series is configured with multiple options. A regular cab, extended cab and two-door style. These body styles have been modified almost as much as the engines themselves. If you're trying to find a Dodge Ram engine, Got Engines can be your supplier. Current low prices are just one incentive found for the Dodge brand.
Dodge Ram Engine Specs
When buying a Ram motor, you have to know what size you need. There are gasoline and diesel types for the Ram. The year of production will often dictate what engine type that you have. The installations for non-Hemi engine types are as follows:
1. 1981 to 1988 [3.7 Slant V6] or [5.9 LA Base]
2. 1989 to 1993 [5.2 LA Base] or [5.9 LA Base]
3. 1994 to 2002 [8.0 V10]
The horsepower ratings for these engines ranges from 95 horsepower in the early engine years to up to 245 in the modern V10. This range of power is one of the highlights in the Ram series pickup trucks. Ensuring that your motor purchase is pulled off smoothly is what we do here. We know the Chrysler variations that are available for engine types. We want you to buy the right unit at the right price. Our team investigates all acquisitions prior to selling online.
Dodge Ram Engine Trouble
Engine problems can and do happen to some truck owners. There are a number of reasons that an engine could lock up. These include bad pistons, electronic issues, timing problems or a bad header. The engines that are for sale in the Dodge lineup here are not sold with these issues. We know how to troubleshoot issues. We provide a warranty protection policy that generally covers the basics of engine operation. What you add on after purchase is up to you.
Dodge Ram engine codes range from P008 to U1601 in most OBD II readers. There are several hundred codes that are used. The first digit is usually the powertrain, body, chassis or communication. The last two number are the actual error codes. Buying a Ram engine in used condition from Got Engines can help you avoid such codes. Buying auction engines that have not been validated can be a problem. Each engine that comes into our warehouse is verified for trouble codes.
Dodge Ram Engine Quotes Online
Now that you know a little about Ram engines it's time to buy one. What we do is quote prices right here online. Our team makes sure that you get the best price. We use a toll-free number and a quote system. You can choose the method right for you. Our helpful specialists are standing by to help you. We're here to get you the V6, V8 or V10 edition motor that you need. Whether it be a gasoline or diesel Ddoge engine, you can get your price right now.