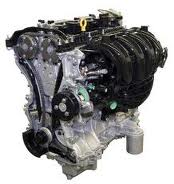 High output in the auto industry refers to a special line of increased horsepower engines. Ford Motor Company launched its Super High Output manufacturing in the 1990s. Few vehicles were selected to enter this higher class of manufacturing. The Ford Taurus is one model that has had engines produced for more than 10 years. Any buyer can find Taurus SHO engine inventory using this resource. Got Engines is likely the top supplier of Ford SHO engine brands in the United States.
The higher horsepower is only one component of the SHO engine series. The original build that was assigned in 1999 inside the Taurus special manufacturing division was the 3.0. This DOHC design was responsible for delivering more than 220 horsepower. This range of power was one of the first uses in a luxury sedan. This gasoline built engine was further upgraded as more power levels were created in other engine designs. The 3.2, 3.4 and late model 3.5 can all be purchased using this resource.
Ford Taurus Replacement V6 Engines for Sale
The V6 is a staple inside of the Taurus. While this vehicle went away in 2009, strong public demand brought this sedan back into the lineup from Ford. The installment of 21st century development in the Super High Output (SHO) is still being worked into the Taurus builds. The new Duratec builds represent the future of the Ford V6 manufacturing for luxury sedans. Using Got Engines to supply used engines makes sense both logically and financially.
Each SHO Ford Taurus motor marketed here online comes with the full company warranty. The OEM warranty from Ford is already expired and a new parts warranty has been established. These are offered to cover nearly every part installed against breakage or other types of breakdowns. Some parts are not covered although these are usually minor parts that can be exchanged by a vehicle owner. Purchasing preowned motors from this established resource ensures that value is created when installations are needed.
Taurus SHO Engine Price Quotes
A quote is price is one of the simplest ways to receive pricing for any motor listed in the warehouse inventory. This can even be started right here online. There are engine specialists who have devoted their professional careers to helping consumers now working here. These are the same pros that deliver price quotes when requesting through the tools here online. The toll-free number marketed on this website is the daily contact number some buyers use. Finding a reputable Ford Taurus engine dealer shouldn't take a lot of work. There are few resources although Got Engines remains one of the most trusted in the North American auto market.