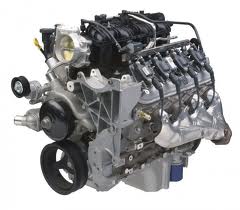 The unique and original design of the Chevy small-block 350 set the groundwork for the 5.7L Chevy engine in the mid 1980s. The newly designed Vortec engine by General Motors has outlasted many rival automakers and is now one of the most in-demand used engines for sale. The Astro van and GMC Safari were the first vehicles to receive the power of the Vortec. The Chevy Blazer and GMC Jimmy helped push sales of this GM engine into the forefront of the auto industry. We have used GM 5.7L engines for sale at low prices. We ship free to your door in the U.S.
The V8 power of the Vortec cannot be denied. We acquire these engines used from reputable dealers around the country. There are many engine dealers online that have ruined the term used and many drivers, mechanics and body shops are weary to purchase used GM engines. Every single engine that we buy starts out as a used one, but it runs like a new one before we are through cleaning and inspecting it. We put in new parts when necessary and verify that the mileage is low. We deal exclusively in used engines with low miles on them.
Very Clean and Performance Tested 5.7L GM Motors
We sell GM engines all over the country and help car, SUV and truck owners just like you to find what you need fast. Our huge network of distributors combined with our massive power to purchase used engines ensures that you never pay a high price for our used engines. We are so confident in our motors that we include a 3-year parts warranty for free. You do not have to be concerned with problems happening after you install one of our used GM engines.
Our inventory is always expanding, but you will find these 5.7L GM engines in stock today:
• GMC Jimmy
• Chevy Blazer
• Chevy S-10
• GMC S-15
• GMC Sonoma
• GMC Envoy
• GMC Typhoon
We employ an expert staff of engine mechanics that work in our technologically advanced engine shop. Every engine that we buy goes through a rigorous testing process to make sure that used engines will met GM specs and our high quality standards. Our used GM 5.7L engines for sale are immaculate and not rusted out like something you will find on eBay. You deserve to buy used engines online from a reputable dealer that actually cares about what is being sold to you and put into your vehicle.
Get a Used GM 5.7L Engine Shipped to Your Door
Call us at 1-866-320-1065 today to get your low price. Our experts are ready to help you and never pressure you to buy when you are on the phone. It costs you nothing to learn about our price. We also use an online engine quote form if you want to get a quote by email. Contact us now to have your engine shipped free today. We know exactly what our 5.7L GM engines can do and we urge you to give us a try.