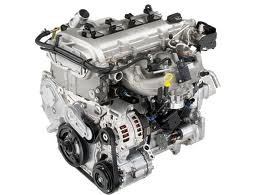 The GM Ecotec 4-Cylinder Engine is labeled as the next small-block for compact General Motors cars. The original GM family II engine was modified by Opal for use in European cars and was quickly designed for insertion in U.S. manufactured General Motors cars in 2012. The Cobalt SS was the first car to receive the generous 2.4L displacement of the Ecotec supercharged engine in 2005. Both the 2.0L and 2.4L engines have made the Ward's Best Engines List in 2010 and 2012. You will find the used GM Ecotec 4-cylinder engine in our massive inventory.
GM has restructured its research and development efforts in an order to rebuild the momentum that was lost during the downgrade of business in 2008. New U.S. manufacturing plants are now producing the Ecotec engines. The Spring Hill, TN plant does the bulk of the manufacturing for these GM engines and will continue to be the launching pad for new engines that are designed under the restructuring plan. We carry the full line of 2.0L, 2.4L and Next Generation GM Ecotec engines for sale.
Low Mileage Used GM Engines and New Engines for Sale
Our engine inventory constantly changes as the needs of our customers help decide what we have in stock. Our partnerships around the country have helped us to establish the largest online inventory of used engines. We work hard to find the best engines that are priced right and do not come with complications. Our attention to detail and energetic engine experts will make sure that you do not experience the same problems that you have when buying from other used engines websites online. Got Engines understands your need to get the engine you want quickly.
We sell new and used GM engines without the traditional markup that has been the hidden secret used by engine dealers. We believe that by treating you professionally and giving you a great price will continue to payoff for us in the long run. Finding a 2005, 2010 or 2012 GM Ecotec 4-cylinder engine will not take days or weeks. Our modern database is updated constantly and reprogrammed with new data on a daily basis.
How to Order Our GM Ecotec 4-Cylinder Engines for Sale
We use a sophisticated quotation system to provide you with a great price and to follow up with answers to any questions that you have about our GM used engines. We ask strictly for the basics to deliver your price quote. You can call our engine experts at 1-888-344-8044 to get immediate answers to your questions. We ship our GM Ecotec engines for sale free of charge to anywhere in the continental U.S. You will not find a better deal for used engines online.